Diamond is a business field that many people are reluctant to go to, but Swa Diamonds is the one who overcomes that reluctance. Swa diamonds is making rapid strides in diamond jewellery making and that successful journey continues unabated in the face of the global epidemic. The concept of SWA Diamonds came into being from CAPESTONE Ventures Pvt Ltd, a leading name in the wholesale diamond jewellers market, that does business with prominent retail jewellers. Many retail jewellers who deal only in gold jewellery are reluctant to add diamond jewellery to their stock due to certain factors. Lack of knowledge and experience in dealing with the quality checking of diamonds and difficulty in buying and selling diamond jewellery are their primary concerns. Terms and conditions of buyback, the understanding needed to use suitable packing materials for diamonds that should be different from the ones used for gold ornaments, and repairing of diamond jewellery are the other reasons cited by most retailers who have the ability to trade diamond jewellery.
Swa is conquering South India with more than 150 outlets. Today is a proud day for Swa Diamonds because Swa Diamonds outlet and Experience center is opening at Lulu Mall in Thiruvananthapuram. Lulu International is one of the best business groups in the world, headquartered in Abudhabi, UAE. Thiruvananthapuram Lulu Mall is the biggest shopping mall in India located at Akkulam, on NH 66 bypass near to the Technopark. The mall offers an enchanting international shopping experience. Lulu Group International is an Indian multinational company operating in Abu Dhabi, the United Arab Emirates with a network of hypermarkets and retail companies. It was founded in 2000 by MA Yusuf Ali of India from Kerala. Lulu Group International mainly operates an international network of hypermarkets called "Lulu Hypermarkets". Lulu has 57,000 employees from around the world.
LuLu Group International opened its first supermarket in Abu Dhabi, United Arab Emirates, in 1995, Later, more LuLu Supermarket stores were opened in different parts of Abu Dhabi. There are also several Lulu stores found in the emirate of Dubai. In 2000, the first LuLu Hypermarket was opened in Dubai and then the group expanded to other countries in the Middle East. It soon developed into a chain with lots of outlets across UAE, Kuwait, Bahrain, Qatar, Kingdom of Saudi Arabia, Oman...In March 2013 Lulu Hypermarket was opened in Kochi, which is the largest Shopping mall in India. Then later opened in Thiruvananthapuram in December 2021, which is also one of the largest shopping malls in India. May the Lulu Group be able to move forward with business branches all over the world and we can be proud of that success because there is a Keralite behind it.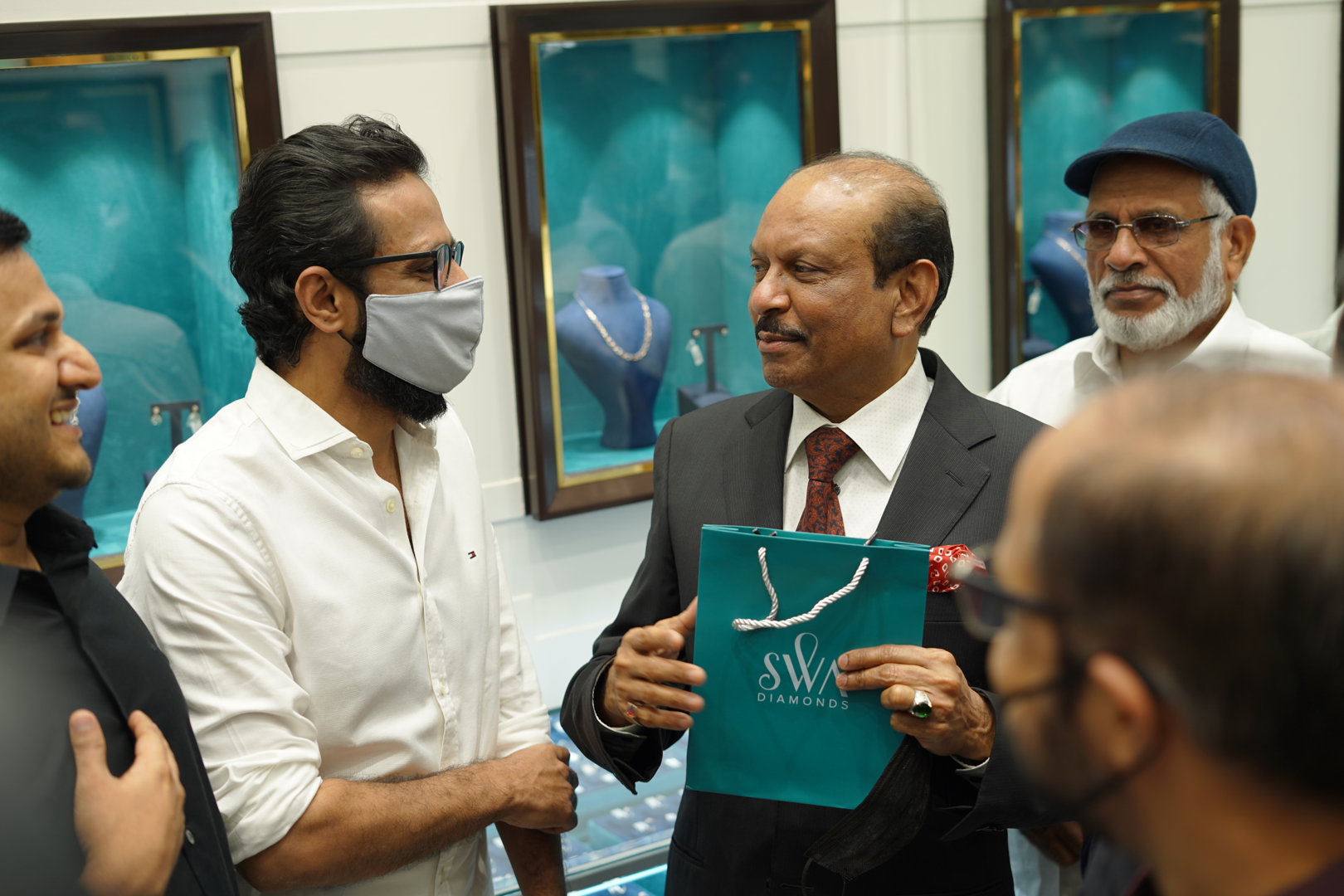 According to Swa diamonds, it is a great pleasure to corporating with the International Business group and definitely it become the milestone of the successful journey of Swa Diamonds. These two companies have so many similarities the founders of these two companies are from Kerala and their mission is also in the same way. In the case of Swa Diamonds, Our mission, SWA diamonds believes every woman desires a diamond and we take it as a privilege to give the best quality diamond at an affordable price range so that they get what they aspire for. The company's efforts are to make it available through exclusive SWA outlets in tier-one cities and SWA shop in shop outlets in tier two and tier three cities of India so that diamonds reach the women in rural India too. when considering the Mission of Lulu International group is to provide a unique shopping experience to customers with unmatched value in terms of quality of products and services, while continuously exploring new market opportunities and adding value to all its business associates. These two missions are logically in the same way only the difference in their business nature.
Swa Diamonds outlet and experience center opens at Thiruvananthapuram, which is the first entry of Swa to this district. M.A Yusuf Ali, the founder of the Lulu group inaugurated the outlet. Swa diamonds experience is center only for B2B purposes and Swa Diamond's retail outlet offers plenty of variety best quality collections of diamond rings, diamond bangle, diamond necklace, diamond earrings, diamond pendant in an affordable price range because Swa believes every woman desire a diamond. Now let Thiruvananthapuram shine in the diamond splendor of Swa.